Nurturing the youngest learners
Your baby's first year of life is a critical time for brain development. Our teachers play alongside the infants at their level and pace, communicating both verbally and non-verbally with the infants, gently extending their learning as they explore materials and solve problems. A consistent, yet flexible schedule accommodates the infants' needs while providing a sense of security and trust. Each routine is built around caregiving routines and events that support active learning. What's more, your baby will benefit from being exposed to new people (caregivers, other infants) outside of your home, helping to develop their very first social skills!
Program Highlights
Through sensory activities, children are able to explore self-directed play that allows them to develop language skills, complex ways of thinking, and a heightened sense of curiosity.
Sensory play consists of activities that expand your child's sense of taste, touch, smell, movement, and hearing
Activities like playing, singing, and dancing further an infants exploration
Sensory activities help with cognitive growth and prepare them for a lifelong journey of learning
Daily group time allows infants to connect with each other and their caregivers by encouraging listening and interactivity.
Fingerplays, storytime, puppet play, simple games, and singing during group time inspire creativity and social-personal development in even our youngest children
Cuddling and stretching with caregivers aid in an infant's physical sensory-motor development
Weather permitting, infants enjoy outdoor time every day. Their senses are stimulated by the sunshine and vibrant colors, experiencing new sights, smells, and sounds outside of the classroom.
Swinging, sand play, playing with balls, small riding toys, and bubble play engage the senses
Outdoor activities foster a curiosity for the natural world
Research also shows that babies who have had outdoor time during the day sleep better at night
Infant Feeding
Our trained teachers are able to administer infant feeding on a customizable schedule based on your infant's needs!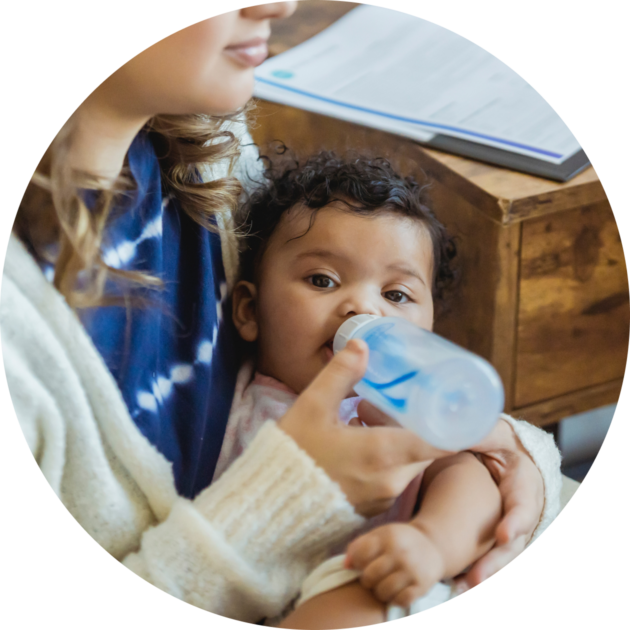 A Typical Day
A lifelong love of education starts with early learning! Each day, our students will have the opportunity to ignite their imagination, socialize with others, and develop skills that they'll use for the future and beyond!
Arrival
Upon arrival, you and your infant will be greeted by the staff. You'll relay any important information to your child's caregiver, such as medicines needed, feeding and sleeping routines, pick-up plans, and more, which will be recorded on the infant's Daily Log Sheet. After that, caregivers acclimate the infant to the group. Breakfast is served to the infants between 7:30 and 8:30 a.m.
Morning
Infants and caregivers enjoy time together playing simple games, singing, stretching, and cuddling. The infants are rocked and fed before morning naptime (as needed). Older infants enjoy circle time together, including storytime, puppet play, fingerplays, and singing. Mornings also include some activity area time for older infants to explore areas like dramatic play, block building, and art exploration. Weather permitting, there may also be some outside time in the morning!
Noon
Infants are fed and diapered throughout the day as needed, with lunchtime usually occurring around midday. After feeding and diapering, infants are given naptime when teachers play soft music while the babies sleep. Infants who are awake during this time enjoy individual activity time with their caregivers. Infants are diapered individually as they awaken, have a snack, and get ready to go outside if the weather permits!
Afternoon
In the afternoon, babies enjoy outdoor playtime like swinging, sandbox play, playing with balls, blowing bubbles, and even enjoying a stroller ride as they explore the outdoors. . When they come inside, they experience a variety of experiences like nesting toys, dramatic play, art exploration, and block building.
Dismissal
As the day winds down, children engage in quiet activities until parents arrive. Upon pickup, the caregivers will share information about your infant's day with you!
They have done an amazing job at sending me pictures, keeping me updated on what she ate, what she did, what she learned and how long she napped. I'm so thankful, we made the decision to put her in this class through ABC academy. Thank you.
Our (nearly) 18-month old started at ABC when he was just 6 weeks old. Since then, ABC has done a commendable job. From cloth diapering to administering daily medications, the center has worked tirelessly to accommodate our needs. This is our first child and it didn't take long before I felt completely at ease leaving him in the care of the professionals here.
ABC Academy has provided me with the peace of mind that my daughter is in a safe, nurturing environment, where the staff provides individualized care for each child. The staff care for the children like a big extended family.
Infant FAQs
What is the infant to childcare provider ratio?
The staff to infant ratio is 1:4. Each infant is assigned a caregiver so that they can build a bond with someone in the program.
What age ranges do you care for in the infant room?
We care for infants between 2 and 1/2 weeks old up through as old as 15 months. This flexibility is based on the development of the infant and the space available in the toddler room.
What will my infant be doing all day?
Your infant will be assigned a caregiver who will read, play, and talk with your child. Your infant will nap and feed consistent with the routines you've begun to establish at home.
How do you communicate with parents?
We use a family communication system where families receive daily reports that detail their child's classroom activities, pictures of their little ones having fun, and more. We are committed to ensuring the utmost communication between our caregivers and our families.
What items should I bring from home for my infant?
Here is a list of items to bring to the center to help your child be comfortable. Please label every item. Parents are responsible for laundering their child's extra naptime bedding and extra change of clothes when used, these will be sent home regularly. We encourage you to provide a family photo prior to your child's first day of school. The photo will be attached to your child's cubby area to identify his/her personal space and to help your child with transitioning into our program by having a picture of their loved ones nearby.
Prepared bottles (please label each bottle with your child's name, contents of the bottle, and the date)
Two complete changes of clothes
Special sleeping sack (optional)
Two pacifiers (optional)
Disposable diapers and wipes
Cereal and baby food
Suction cup bottom bowl (optional)
Bibs (optional)
Family Photo
How can my child grow with ABC?
At ABC Academy, we believe that every child deserves a safe place to grow at their own pace. We meet our children where they are developmentally and foster environments conducive to helping them reach their milestones. By planning around the individual child at every level of care, we foster growth in children as young as 2 and a half weeks old, all the way through twelve years old.
How do you accommodate children with disabilities?
Before a family enrolls their child in ABC Academy, we meet with families to discuss any disabilities or individualized needs a child might have coming into the program. That way, before care even begins, we can ensure that we can put into place any added extras that a child might need—from individualized education programs to special equipment. These pre-enrollment meetings can also include meeting with doctors if a child has any medical needs we should be aware of.
How can I ensure my child will be safe?
At ABC Academy, your child's safety [hyperlink to Safety page] is our top priority. Our building is secure with limited access—each family has a unique door code to unlock the front door so that we know exactly who is picking up which child. We take extreme precautions surrounding child pickup to ensure that only approved family members can pick up children after the day is over. We also mandate that our staff complete annual health and safety training and certifications.