Celebrating the differences of each and every toddler
The toddler age group is a diverse one—and that's something we celebrate at ABC Academy! Our toddler teachers utilize a variety of strategies to meet each child where they are in their learning journey. Our toddlers' daily routine is consistent, fun, and flexible, with a child-focused curriculum specifically designed to foster their innate curiosity and support both their interests and developmental progress. Each toddler is assigned a primary caregiver, ensuring they form bonds with a designated staff member and with the other children in their small group.
Program Highlights
We use a child-focused, research-validated curriculum model that is designed to ignite children's interest in learning through interactions with adults and peers and exploration of learning materials.
Choice Time allows toddlers to discover and pursue their interests in areas like dramatic play, sensory play, block building, and art exploration
Adult-Child Interaction is a key facet of our child-focused curriculum, which is why each toddler is assigned a primary caregiver
Our predictable and active learning environment teaches toddlers to anticipate what is next in their day and demonstrate initiative
Daily small and large group time allows for toddlers to become acclimated to a classroom setting with more children and more activities than they may be used to at home.
Small group time in the mornings allows for bonding between the toddlers as they learn teamwork and empathy
Large group time with a full classroom provides a solid stepping stone into a preschool environment
Weather permitting, toddlers enjoy outdoor time twice every day.
Swinging, climbing, sliding, sand play, playing with balls, small riding toys, and bubble play engage the senses
If the weather is unagreeable, a large motor activity will be planned for children inside
Playing outdoors gives your child the chance to explore the natural environment and have adventures.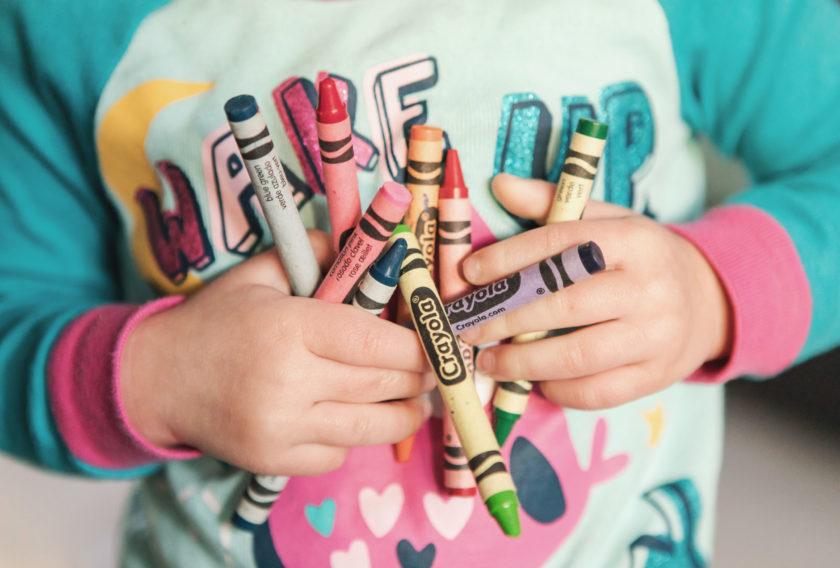 Toilet Training
Teachers and parents work in tandem to develop a toilet training plan for older toddlers who demonstrate interest and developmental readiness. These routines are consistent between home and school so that each child can gain bathroom independence in no time.
A Typical Day
A lifelong love of education starts with early learning! Each day, our students will have the opportunity to ignite their imagination, socialize with others, and develop skills that they'll use for the future and beyond!
Arrival
Upon arrival, staff members greet the toddlers and families. Parents relay important information to their child's caregiver, such as medicines needed, feeding and sleeping routines, pick-up plans, and more, which will be recorded on the toddler's Daily Log Sheet. After that, the toddlers join in the fun and learning with their friends.
Morning
In the mornings, toddlers have Greeting Time, a large-group daily space for discussing what'll be happening during the day and if there's anything different or special in-store. In their large group, they may also read a story, play with puppets, or sing a song! After large group time, children can choose from interest centers such as dramatic play, sensory play, block building, and art exploration. They help clean up as a group, and then it's on to small group time with their primary caregiver!
Noon
Children are fed lunch (provided by the parents) around 11:00 or so, followed by a relaxing, quiet storytelling time before being put down for a nap. During nap time, teachers play soft music while the children sleep. Toddlers who are awake during this time enjoy looking at books on their cots. Diapering and toileting occur as the toddlers awaken—then time for another snack and getting ready to go outdoors if the weather permits!
Afternoon
Outdoor time in the afternoon can include activities like swinging, sliding, sand play, playing with balls, bubble play, and small riding toys. If the weather isn't agreeable, a large motor activity is planned for the children inside. Once they come back to the classroom, they have more choice time to enjoy a variety of activities like dramatic play, sensory play, fingerplays, songs, and blocks.
Dismissal
Children enjoy an end-of-the-day snack and engage in quiet activities until parents arrive.
ABC has been so good for both our sons. The teachers are loving, creative, and patient. Our children's education and development have greatly benefitted from their time here.
My son has been going to ABC Academy for 3 months. He loves his class, friends, and teachers. I would definitely recommend ABC to parents searching for a daycare that promotes educational play and creativity.
Our son LOVES going to ABC Acadamy. The teachers in his room brought him out of his shell completely and he's talking so much more in the few months since attending. He currently attends 3 times a week and EVERY morning he asks if he's going to school today!
Toddler FAQs
What is the childcare provider to toddler ratio?
The staff to young toddler ratio is 1:4. The staff to older toddler ratio is 1:8. Each toddler is assigned a caregiver so that they can build a bond with someone in the program.
What can I expect as my toddler enters the program?
During the transition from home to center, you will receive general information on the program and a daily schedule, meet with your child's teachers, tour the classroom, and meet the other children in the classroom. You are encouraged to discuss the communication methods that work best for you with your child's teachers. Please mention any adjustment problems you anticipate, and, together, we will work to foster the best possible transition. We also recommend that you visit the center several times prior to your child's first day, if possible.
How will I know when my child is ready to move into a new age group?
As children grow and develop, they need new challenges and social interactions with other children in their peer group. Children will make a transition to the next program based on their age, developmental readiness, state licensing requirements, and space availability. There is no set formula. This allows for greater flexibility so that each classroom can change to fit the developmental characteristics of the children enrolled. During the transition from one program to another, current and future teachers meet with you, and your child is then gently integrated into the new environment through a series of visits to the new classroom. We encourage you to visit the new classroom as often as you can so that you too can become accustomed to the environment and bond with your child's new primary caregiver. Special attention is given to your family to support you through these changes. You are encouraged to discuss communication methods that work best for you in order to maintain ongoing dialogue throughout your child's transition.
What should I bring from home for my toddler?
Here is a list of items to bring to the center to help your child be comfortable. Please label every item. Parents are responsible for laundering their child's extra naptime bedding and extra change of clothes when used, these will be sent home regularly. We encourage you to provide a family photo prior to your child's first day of school. The photo will be attached to your child's cubby area to identify his/her personal space and to help your child with transitioning into our program by having a picture of their loved ones nearby.
Training cup (optional)
Training underwear (several pairs)
Rubber pants that fit over training underwear (several pairs)
Two complete changes of clothes
Special blanket (optional)
Disposable diapers and wipes
Bibs (optional)
Lunch labeled with your child's name and the date
Seasonal clothes for outdoors